Esta entrada también está disponible en:
Español (Spanish)
Português (Portuguese (Portugal))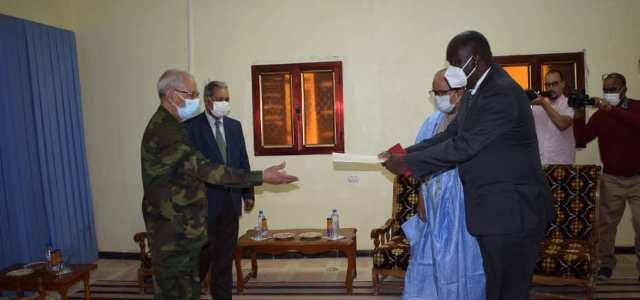 Shahid Al Hafed (SADR)– The President of the Saharawi Republic, H.E. Mr. Brahim Ghali, received the credentials of Extraordinary and Plenipotentiary Ambassador of Angola to the Saharawi Republic, H.E. Mr. Toko Diakenda Serão, on Sunday 27th February 2022.
During the ceremony of presentation of Credentials at the Presidency, Mr. Toko Diakenda Serão, who is the first Ambassador of Angola to the Saharawi Republic, conveyed to the President of the Republic the greetings of Angolan President, H.E. João Lourenço, and his wishes to the Saharawi people for further prosperity and progress.
The President of the Republic welcomed the Angolan Ambassador and assured him of the determination of the Saharawi Republic to deepen and intensify bilateral relations to serve not only the two countries and regions but also the continent and the African Union.
In a statement to the Medias after the ceremony, H.E. Toko Diakenda Serão, I just presented my credentials to H.E. the President of the Saharawi Arab Democratic Republic, we confirm through this our solidarity and support to the Saharawi people in their long struggle for self-determination and independence".
The Angolan Ambassador presented a copy of his Credentials in a special day for the Saharawi people, the National Day, as the first Ambassador of his country to the Saharawi Republic to the Secretary-General of the Ministry of Foreign Affairs, Mr. Salek Saghiar Radhi.
He also had the opportunity to visit various institutions, local administrations and met with a number of Saharawi high officials, including members of Polisario Front's National Secretariat in Charge for the Political Bureau, Mr. Khatri Addouh, Special Advisor of the President, Mr. Bachir Mustapha, the Saharawi Prime Minister, Mr. Buchraya Beyoun, and Minister of Social Affairs and Women Emancipation, Mrs. Suelma Beiruk.